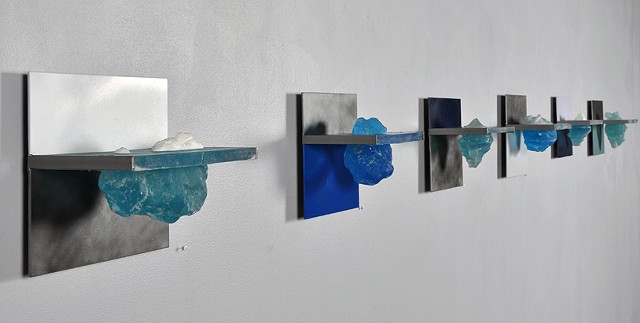 Iceberg Series
Mags Harries
Cast resin, paint, steel
2017
photo credit: Kathy Chapman



Through objects, drawings, photographs, installations, and performances Mags Harries celebrates and transforms the humble object, the unnoticed, and the left-behind. Her artwork brings life and humor to even street sweepings. The work asks people to look at something familiar in a new way, creating interaction and engagement between the viewer, the artwork, and life.
Harries has exhibited across New England, the country, and internationally, including at The Institute of Contemporary Art (Boston, MA) and Boston Museum of Fine Arts (Boston, MA), and a retrospective of her work at the Decordova Museum, (Lincoln, MA). She received a fellowship and residency from The Bogliasco Foundation, (Genoa, Italy) and attended residencies at the Baer Art Center (Hofsos, Iceland) and The American Academy (Rome, Italy).
Awards include the AICA Award, a Massachusetts Cultural Council Fellowship in Sculpture/Installation, a Marshall Cogan Visiting Artist Fellowship, a Massachusetts Governor's Design Awards, a Design Excellence Award for Public Art in Transportation, The Grand Bostonian, and a Bunting Institute Fellowship at Radcliffe College, Harvard University. Currently, she teaches courses on sculpture, installation, and public art at the School of the Museum of Fine Arts in Boston.